World of James Herriot Puzzles
Here are 50 puzzles, aligned closely to the original eight books of memoirs by the world's most famous vet. This book will test you to the full, with specially created crossword puzzles, sudokus, riddles and other word-games. Animals and ailments, colleagues and customers, potions and powders of the original eight books of memoirs are all here, as well as on-screen portrayals of vets and locations, both real and fictional.
Don't worry though. If it all gets too much, the solutions are in the back.
---
"This volume of puzzles comes from the pen of Yorkshire Author Julian Morgan and closely matches the content of the books written by James Herriot. The challenges posed vary from simple wordsearch to cryptic conundrum and will surely appeal to Herriot fans of all ages. Julian's puzzles are respectful in adhering to the original stories and will bring new ways for readers to connect again with the stories they love."
Ian Ashton, Managing Director, World of James Herriot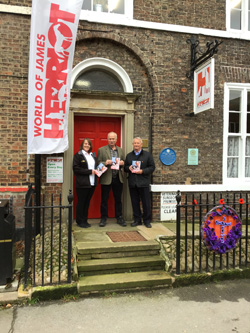 Seen in the picture outside the famous red door of the World of James Herriot in Thirsk, Julian Morgan presents the book to Kate Pawlett, Centre Manager, and Ian Ashton, Managing Director.

---
Introduction on youtube
---
Purchasing
Copies of the book can be bought on Amazon at the following links:
UK
USA
Germany
Holland
You can also buy your copy online from the World of James Herriot
at this link
.
---
Sample
Click on the link to download a taster from the collection. If you buy the book, the answers are given in the back and you won't be left guessing!
Sample:
World of James Herriot Puzzles, number 1